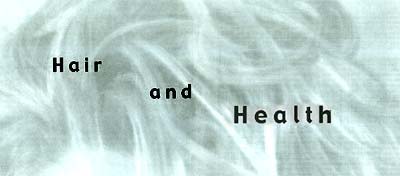 HAIR AND HEALTH
Richard Stein
ecently I was cutting the hair of an old friend; this is a special relationship which spans over the many years that I've been styling and changing her looks through many of her most important acting assignments. She's a well-known, high profile performer and our sessions together are always intense because of the importance of getting the look just right. We were interrupted in the middle of the haircut by the receptionist of the salon who came over and announced to me that I had a very important. phone call, when I inquired as to whom it was she told me that it was another client requesting information about a wig for a relative who was soon to have chemotherapy. I told her that I would return the call as soon as I could and went back to the task at hand. My friend began asking me questions about wigs and chemotherapy and what and how one had to do to go about the process. I distractedly answered her as I continued to work on my creation little knowing until the following Sunday, when she called me at home, to tell me that she herself had been diagnosed with a serious form of cancer and would I help her find a wig.
Over the years I've become increasingly dismayed by how little information is known about cancer, chemotherapy, and women's hair. I've tried to develop a kind of we-can-get-through-this attitude with the women I've encountered at the early stages of their illness because I truly believe that there is a strong connection between self-confidence in the way one looks and the healing process.
Suggesting gently to someone to cut off their locks as soon as possible to prepare them for what eventually may happen isn't easy particularly if that woman is attached to her hair. All sorts of unasked-for changes will occur. There's suddenly going to be a major style shift, one's natural hair color revealed, just to name a few. Each woman's wig needs are different; my actress mend ended up with two wigs, each differently styled and colored, one for day and one for evening.
I remember being called at the last minute to cut the wig of a young woman I knew who was in the hospital and already undergoing strong treatments. When I arrived I found someone who literally hadn't combed her formerly thick hair in days. As I began to comb her hair it started to come out till there was virtually none left, I quickly cut the wig that her mother had purchased into the style that she was accustomed to and tried to restore her to some sort of normalcy. After I had gone, one of the nurses came into the room and admired the young woman's hair thinking it was her own. This made up for an extremely tense and difficult situation.
Things usually move very quickly after the first discovery of this particular illness, shock, grief, and rage plus numerous other emotions appears, there seems little time to focus on much, let alone getting situated properly with a new wig. However it really is an extremely important step in the healing process. Changing ones hairstyle almost always provides a lift and so it can be with a wig.
I recently had a heart-to-heart conversation with a client, a young, single, well-to-do businesswoman whose mother had just found out she had ovarian cancer; she lives in Illinois in an area not especially known for wigs. I offered to help and had her send me the best picture of herself with whatever information was pertinent, her color formula, style ideas, head size, etc. I found a relatively inexpensive wig, which I cut on the head of an employee that had a similar look to the woman. I managed to complete everything and send it off just before the first chemo treatment. The result was one ecstatic lady. She managed to wear her wig to a big family event where everyone oohed and aahed about how good she looked, even people who didn't know she was sick. She subsequently was heard to boast to people about her New York wig.
Another woman I know, during her recovery from an illness that damaged her hair, stopped wearing a wig and was sporting a growing out haircut that looked like a beautiful white halo, was stopped on the streets of Manhattan by a Japanese photographer who insisted on taking her picture raving about her hairdo as the last word in fashion. This incident buoyed the woman's confidence to no end and the comments and compliments from her friends and colleagues about her hairstyle have in large part given her the courage to continue to wear her hair in a short style long after her recovery.
I've spent most of my career encouraging my clients, men and women, to be aware of the hair health factor. Few people really understand the texture of their hair let alone what their hair needs for ongoing health. Engaging in a dialogue with one's hairdresser about the health of one's hair is just as important as finding the right style. Healthy scalp and hair is everyone's dream and most importantly everyone's right.