The Hairs
Sharon Olds
t 53, I start to save
The hairs from my comb, and from the rug by the bureau, a
and to keep them in a bowl, and then, at night,
when the wind is from the east, to loose them out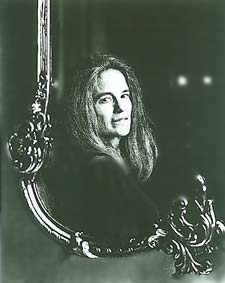 the western window, over the park,
for the nests -longing for some part of me,
a stream of keratin from near my brain,
to be used by one who cannot fall
to hell, who files and lays, and along the
oval portmanteau of the offspring
lays species-telltale splotches, squighiggles,
dawdles, dodder, doodles, duty-off
waste-free songings of the female body.
At 53, 1/2, I stop,
not only because a man at a party
when I ask if anyone else does this,
says, So that's where all that gunk
is coming from, axle-winding
the gears and cogs of the working world
-but because I fear that my beloved might find
one of these nests of nest-questing silver
and feel, perhaps, his first disgust
at the mortal, at me. But at 53 11/12,
when I see a troop
of flitting dashing cometing meteoring
cupids in a low tree,
I take my little mess to them.
This is what I have made, tiny mothers,
with my body, my scalp, these quirked rivulets
like handleable, passable-down, polished
tears, of joy, or of grief, or something
exertion of bliss or necessary work -just the
streaks of energy, as I use up my life.
Sharon Olds is a Poet Laureate of New York State. Her works include Satan Says, The Dead and the Living, The Gold Cell, The Father, The Wellspring and Blood, Tin, Straw.