AFTERWORD
Celebrating Your Hair
o we've come full circle. And you have, I hope, been disabused of most of the anxiety-provoking myths about hair and haircare--and turned on by the potential of your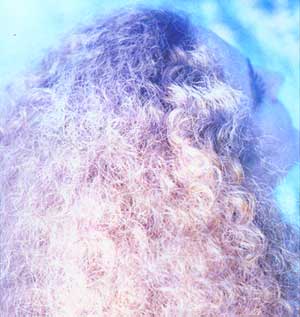 own hair. In short, set free. Set free to live with your hair happily, to love it, to celebrate it.
Because nothing seems quite so real and relevant as actual examples, I chose six women to work closely with for the last section of this book. Each represents a different hair challenge, and each has life-style needs that require versatility and ease of handling throughout the day. Working with them gave me the opportunity to demonstrate how simple it is to achieve a variety of looks--one after another--with an excellent basic cut and a little imagination and flair. I want to stress that anyone can manage these changes. Anyone can have hair that she loves... every minute of the day and into the evening.
Everyone can be set free.

Sharon studies fine arts at the Parsons School of Design.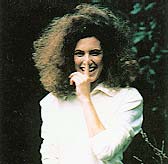 At twenty, she is a wonderful combination of flair, style, and incandescent energy. Her day is nonstop and generally begins with a brisk early-morning walk.
Before hitting her stride along the pathways of Central Park, Sharon showered, washed, and conditioned her long hair, finger-dried it, then finished it with a blower and a large round brush to loosen and relax its extraordinary curl.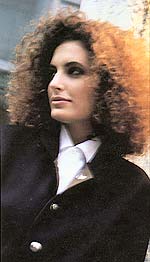 A long day of classes behind her, Sharon hurried back to her Columbus Avenue studio apartment for a quick metamorphosis from student of the arts to their appreciator--and she was off to a gallery opening on Madison Avenue, where her friend Michael's work was being shown. To reclaim a little of the sexy, untamed look of the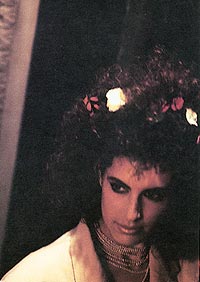 morning, she spritzed her hair, then finger-combed it (with her head upside down) and scrunched the ends. This helped her feel refreshed as she also slipped in a little scalp massage.
It was Saturday night in Gotham, and Sharon had a major date with the major (currently, that is) man in her life--an evening of trendy dining and latenight dancing at The Tunnel. Such a special night cried out for special effects: flowers were tucked into the respritzed and revitalized curls, and pomade, deftly applied, helped to hold her hair, which she elegantly drew up and back off her neck.
Susannah is the youngest partner in a distinguished Wall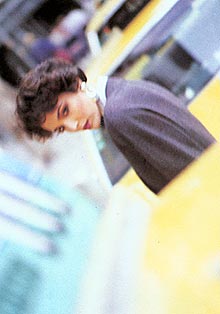 Street law firm. A specialist in entertainment law, Susannah has a day that doesn't quit. Beginning at seven-thirty A.M., she moves at a hectic pace, inside the office and out, from meeting to meeting, from business lunch to drinks to client dinners, often running until the small hours.
Susannah needs wash-and-wear hair at its simplest. This morning she did nothing more than shampoo it and let it dry on its own, hand-shaping it because she was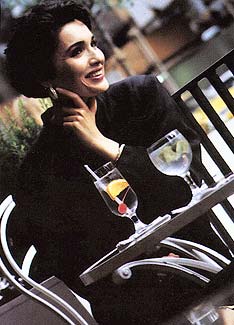 on the move.
And into her Gucci briefcase along with her contracts, letters of intent, and other weighty documents, she shrewdly tucked a canister of mousse for changes on the go.
For drinks at the Stanhope with a West Coast agent, Susannah smooths her hair to create a more sophisticated look (it depends on mousse for its sleekness).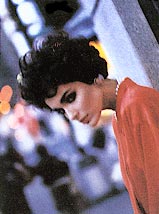 Off to dinner in Soho with one of her most handsome movie star clients, Susannah merely spritzed her hair to reactivate the mousse, added a little more to ensure hold, and set her hair in large rollers in a random pattern. Mousse dries very quickly, so less than half an hour later she fingercombed her hair and teased it lightly (just at the roots) for a more dramatic effect. And for a final touch of glitz, she painted a few wild streaks of color with the new state-of-the-art hair mascara to match her dress.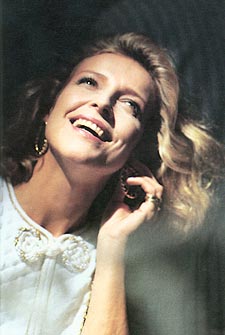 Gabrielle is a socialite mover and shaker. Married to a real estate tycoon, she is the mistress of several households, including a country place in Bucks County and a Park Avenue triplex. She is also the mother of three. Between school board meetings, charity work, and black tie galas, Gabrielle barely has enough time to keep up with her macrocosmic marathon.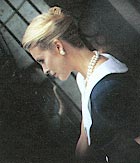 Relaxing after an invigorating seven-thirty A.M. session with Adah, her favorite exercise mistress, Gabrielle indulged herself in a mini-spa treatment in her own luxurious mirrored, marbled,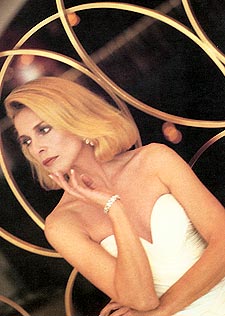 and meticulously outfitted bath. Afterward, she simply air-dried her hair, lifting it away from the scalp periodically to encourage drying and the expression of its natural wave and body.
For an afternoon meeting with her pet Landmarks Preservation charity, Gabrielle struck a more formal, professional pose. She simply slicked back her hair into a classic French twist (chignon) and smoothed down stray ends with a little pomade.
During intermission at an opera gala at the Met, the classic line of Gabrielle's basic cut really shone through. She spritzed her hair and then used a blow-dryer and a round brush--one with a larger diameter than Sharon's--to coax in the curves and turn the ends.
Robin is an aspiring actress who meets the heady budget for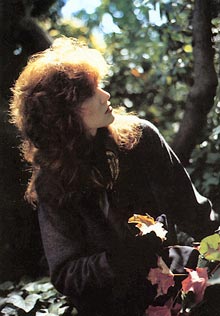 her acting coach, voice lessons, dance class, and wardrobe by designing inspired arrangements for a fashionable Park Avenue florist. Her day is an intricate wire-walking act, demanding that she play as many roles as she ultimately plans to create on the stage and screen.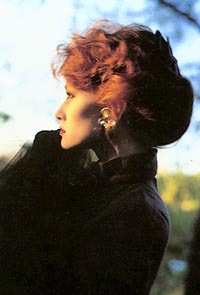 Stealing a note from nature on her way to work, Robin had to do little to bring out the natural beauty of her own luxuriant auburn hair. This perennially popular shag cut--air-dried in the morning, tossed a few times, and hand-shaped--simply follows the contours of her head.
With an important afternoon audition coming up, Robin added loads of mousse to her dry hair to create volume, then pulled it up and behind one ear with a pretty comb (she could just as easily have used a bobby pin). This accentuated her lovely bone structure.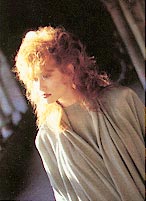 Now Robin's ambitious dreams become reality as she prepares for her first important off-Broadway role in The Little Foxes. Extravagance is the mode here, and it couldn't be easier. Robin just brushes through her hair to unstiff it, rolls it over and up, secures it with bobby pins, and adds a black velvet bow as a contrast to her glorious Titian tresses. Because this is a shag cut, the top and crown hair are not caught in the roll but are splendidly shown off with the side and back hair tucked away. High drama indeed!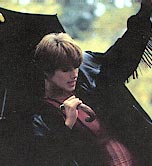 Phoebe is a young comet rising in the star-studded firmament of book publishing. From reading unsolicited manuscripts at slave wages, she has capitalized on her sure instinct for nurturing talented writers to reach the upper echelons. Literary agents love her, and she has just landed her first major title, associate publisher at one of New York's prestige publishing houses.
Phoebe's day moves at the speed of light from aerobics class to
editorial meeting, to lunch with a literary power broker, conferences with important authors and on to the Literary Guild glitziana at the St. Regis.
First thing in the morning, sky high on aerobic energy, Phoebe headed for her Chelsea apartment to dress for work. Even very straight hair, if cut right, will be lively if left to dry on its own. Vigorous finger-combing provided body and bounce. Her streaked hair caught light as she picked her way home through the puddles.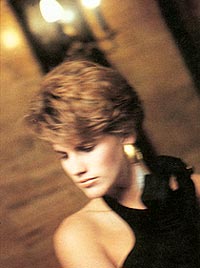 Reflecting the sleek chic of her lunchtime rendezvous, The Four Seasons, Phoebe simply dampened her hair with spritz, and then smoothed it back with pomade. Her dramatic sculpture cut achieved that elusive amalgam of elegance and sheer sexiness.
One of publishing's premiere perks is celebrity-studded parties. For the Guild gala Phoebe washed her hair (pomaded hair can be recalcitrant), then used her blow-dryer at the roots to create a petaled effect. Then back to pomade--tiny amounts scrunched into the ends to lend brilliance. Let the hot gossip and bon mots begin!
Renee's life may bear a surface resemblance to the comfortable quotidian of the suburban housewife's. But like most of the multifaceted women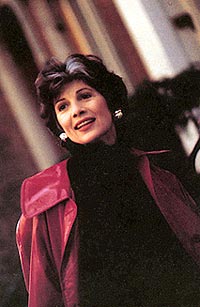 who come to our salon, Renee specializes in the subtle art of the unexpected. Her days are as full as the busiest of my high-powered women executives.
Though it's not yet ten A.M., Renee has worked out vigorously with Jane Fonda on her videocassette recorder, and is enjoying a respite with her coffee and the Times.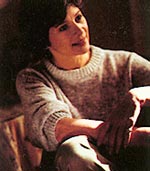 Renee has chosen the perfect haircut for her unfolding life. Just as she's grown her two kids out of the nest, her interests to encompass graduate degrees in psychology and literature, and her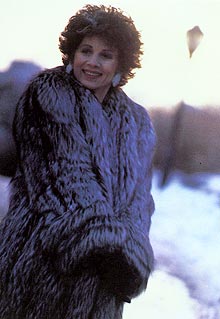 marriage to that elusive silver anniversary, Renee is growing out her hair. After years of coloring, she is contemplating a return to her roots. This means keeping her hair in mint condition, so she has simply cleaned and conditioned it, using the scalp massage styling technique.
Returning from a late afternoon appointment at my salon, Renee had had an intensive lesson in the exquisitely simple art of hands-on styling.
Swathed in silver fox for that special evening with her husband at the country club, Renee was transformed. Like the intricate interplay of black and silver in her coat, her hair reflected a shimmering chiaroscuro of light and dark.
Renee has mastered the major magic--how to make an ally out of that old nemesis who kept her prisoner for so long--her hair. Renee has been set free.