"RIBBON-CUTTING"
…a revolutionary new technique from the master of no-care hair!
With a swoop of his shears, RICHARD STEIN cuts hair to ribbons… and changes the future of hair fashion!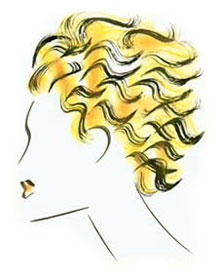 When renowned hair stylist RICHARD STEIN set out to design a new haircut, he was thoroughly bored with maximum-messy chop-crops and long, lank non-styles. Believing that each woman deserves to develop her own unique look, while still staying in step with style, he experimented to create the perfect cut, one that could work on all hair, from long and straight, to short and curly. And then, one day, with a swoop of his shears, RICHARD STEIN lopped locks into lengths and created a never-before haircut. Now this revolutionary (and evolutionary) technique, "Ribbon-Cutting", has transformed the what, how and why of haircutting and cleared the way for 21st-century hair — bold, carefree, memorable!
Ribbon-Cutting produces hair for this millennium: casual, but never unkempt; long, but never lank; cropped, but never "chewed"; stylish, but never set; a perfect amalgam of last-century non-style and new-century chic. Not since Sassoon first scissored the blunt cut has there been such a hair revolution. And now that hair is being "cut to ribbons", it never looked more beautiful!
"I've tried to create order out of the current chaos", says RICHARD STEIN, "by taking classic shapes and using Ribbon-Cutting to give them movement, texture and color." Stein, whose client roster is a Who's-Who of superstars and superpowers, believes that all good haircuts begin with a basic, flattering shape. "The texture of the hair and the shape of the head dictate where to Ribbon-Cut", he explains. Working within those parameters, he meticulously cuts 1/2″ to 1" sections of hair into ribbons, alternating long and short lengths for a woven effect that creates the illusion of movement. The result is an un-set haircut that always falls beautifully into place. "With its irregularity cut in, there's nowhere for hair to go but where it belongs," says Richard. "Ribbon-Cutting is a sleight-of-scissors technique. The artfulness of the cut appears only when one moves closer."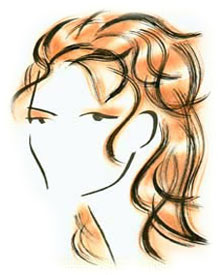 According to Stein, Ribbon-Cutting works for short hair or long, with bangs or without. "It all depends on the client's daring," he cautions. "This definitely is a client/hairdresser team effort!" Each haircut is treated as a work in progress; every client is invited to return for a trim or adjustment. "The most important thing to me is a happy client", says Richard. "And I do believe that all haircuts evolve, from the first new look to the final result. That's why it's so important to have a rapport with one's clients."
Once the cut is completed, salon master colorists lay ribbons of color onto the shorter lengths of hair. "The color emphasizes the cut, giving beautiful highlights and extraordinary sheen to the hair", Stein says. "And there are so many wonderful ways to play with color. I love copper ribbons on brunettes, or gold on blonde. The key is that the colors be subtle."
For the creator of Wash-and-Wear Hair, non-care is a requisite. A Ribbon-Cut requires little more than daily shampooing and a quick shake-out. "With today's over-extended schedules, no woman should need to fuss with her hair", says RICHARD STEIN. "Whether hair is long or short, straight or curly, it should be cut to fall into place with the shake of a head. If it doesn't, there's something wrong with the cut."

Classic Richard Stein Cuts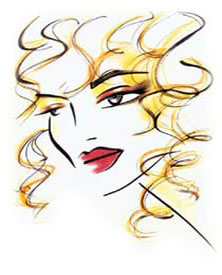 romancing the curl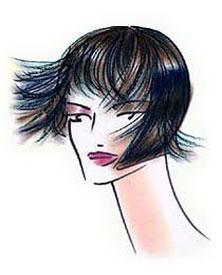 the streak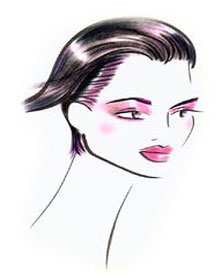 swimmer's hair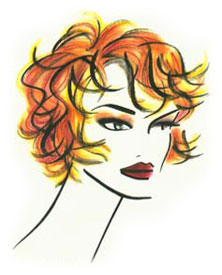 the counterpoint cut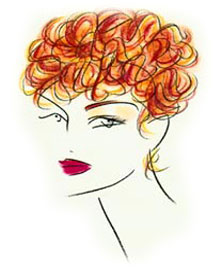 crop top (curly)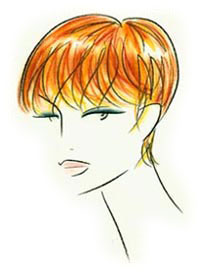 crop top (straight)